Approaches (100-04)
Brazoria County Airport-Runway 17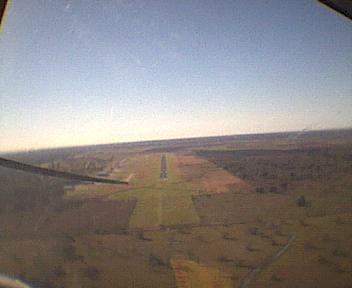 Above, turning base to final, on a glorious Saturday morning. Not a cloud in the sky. Notice the black line across the picture. This is a new phenomenon I discovered with my digital camera. It seems to capture the prop at a point, almost like stop motion photography. My film camera doesnt pick it up at all, like the human eye, you can see right through a spinning prop. Picture taken from the right seat.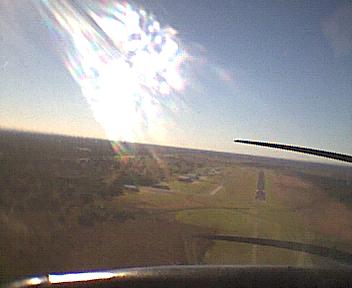 Another view...this time from the left seat, there's that black line again.



Below is a sequence to runway 35.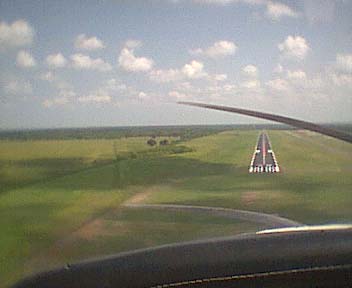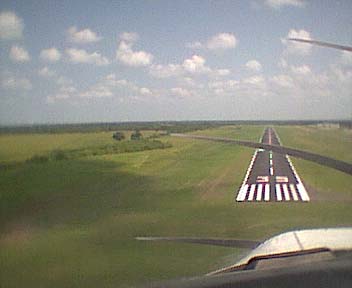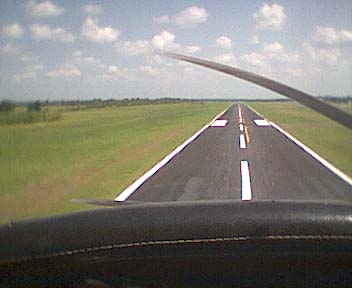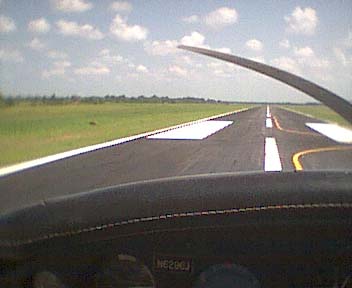 Arcola-Runway 09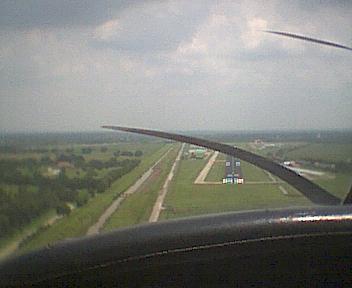 Here we are on final to runway 09 at Arcola. Something about this picture, notice the phenomenon I spoke of earlier. Not only did the digital camera capture the prop in stop motion, it also appears to be bent! Of course, this is an optical illusion, but still an impressive sight. The line above was a mystery also...I first thought it was my visor placed exactly horizontal, or a reflection of the prop in the windscreen? But it's not the visor. So I don't know now.
Also, if the lower black line is the actual prop in stop motion, then it appears to be twisted. That is, the flat side of the prop should be perpendicular to me. Instead, it looks like I am looking at the leading or trailing edge of the prop. How can this be?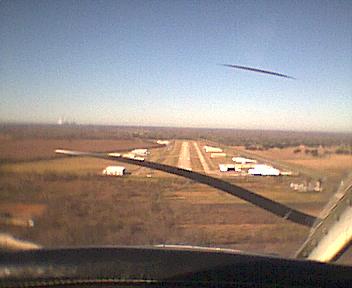 Another earlier approach, this time to 27, lined up on the runway. Here it is again. I now think the mystery is partially solved. The upper black line (almost gone), must be a reflection of the prop on the wind screen. Again the prop appears to be bent, and now appears to be "floating" off of the cowling!



Galveston-Scholes Field-Runway 13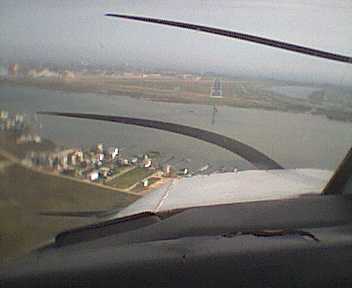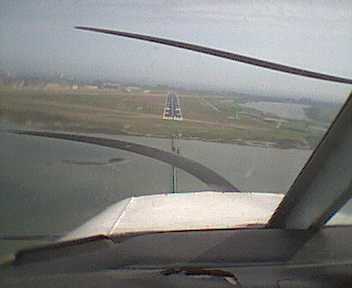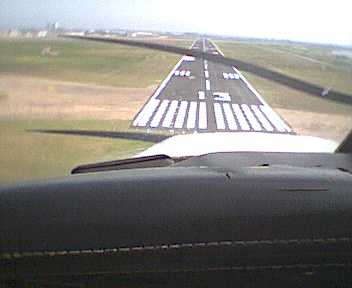 Three views of my approach (left small to compare side by side), ...right on center line ! My instructor would be proud.



Ellington Field-Runway 17 Left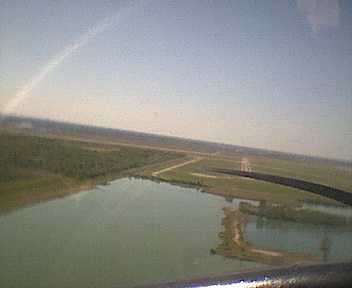 A pretty standard routine for me: Fly to Ellington Field (Class-D, towered), do 3 touch-n-go's, and head-out straight out due south. This "lake" is new, it used to be a golf course. First Ellington AFB golf course, then the City of Pasadena. Now it's some kind of nursery. Anyway...see how low I am in my final approach? Those guys in the tower made me enter class-D airspace at or below 600 feet, and maintian that for my TPA. What were they thinking? That's 4 miles out, over populated areas (Pasadena). Anyway...they made it tuff for me, but I complied of course, and got some good practice. Ellington is still one of my favorite places to go.



David Wayne Hooks-Runway 17 Right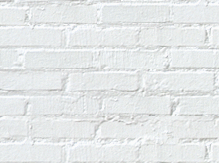 Here is a picture of ...



Victoria Regional-Runway 12 Left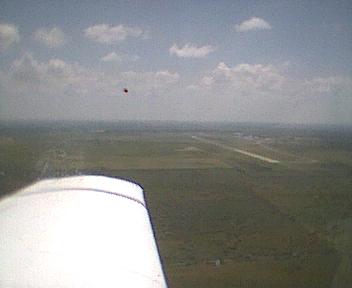 Above, left downwind to base, 10 degrees flaps.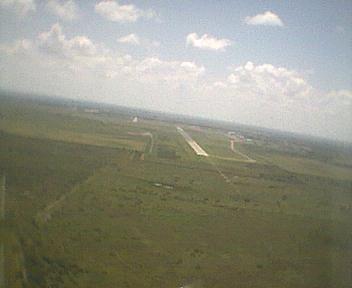 Base leg, 20 degrees flaps.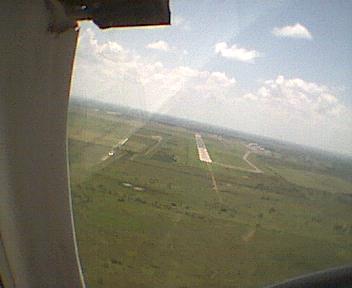 Turning final approach.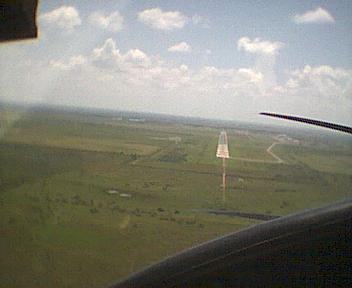 Leveling out on final.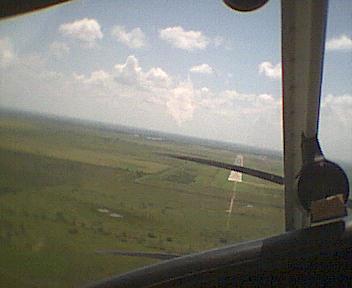 Aligning to the runway on final.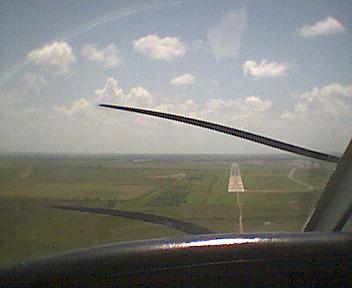 On course now, full flaps.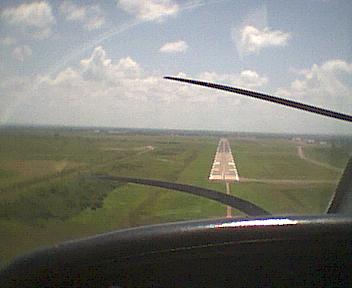 Half mile short final.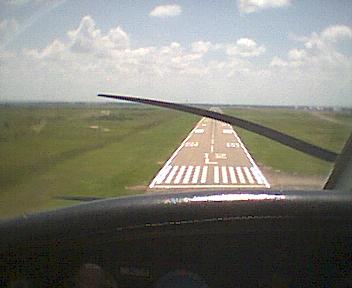 Air speed good, throttle back.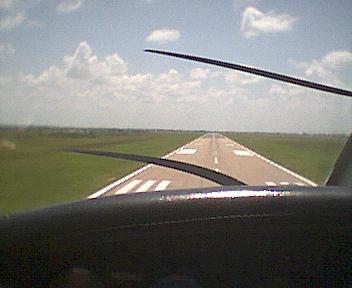 Over the numbers.
And what you don't see, touchdown! A beautiful landing, rollout, flaps up, full throttle, climb out and head for home.


"You mean I can get paid for that? Who knew? America -- what a country!" -- unknown