Friday evening, March 15th, the first official club activity occurred, as the Alamo Draft House sponsored its famous Rolling-Road-Show. There were six Texas DeLorean Club cars in attendance. It was a very pleasant late Friday afternoon followed by a brisk early evening. We had dinner compliments of Fusion Eats restaurant and bar. Yes, it was a bit cold, but a crystal-clear evening in Houston. All the DeLoreans showed well.
Photos by Thomas Kidd (click images to enlarge).
This six Texad DeLorean Club cars that attended the event are (front-to-back):

Rob Kesler
Aaron Barringer
Dennis Urich
David Crossley
Thomas Kidd
Shannon Birdwell

Thanks everyone for attending.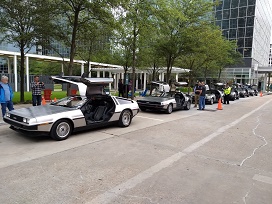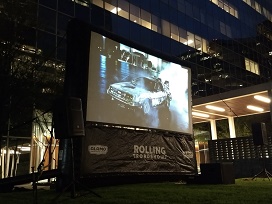 Well, earlier I mentioned there were six DeLoreans in attendance. But I guess if you count Doc Brown's Time Machine, that makes seven, right?
As usual, the Draft House's technical setup was professional, and the screen image was very nice. Thank you again to Kait, at Alamo!